201 Stainless Steel Coil Supplier
Thickness: 0.2mm – 200mm
Width: 300mm – 2000mm, the narrowed products pls check in strip products
Length: 500mm-12000mm
Finish: 2B, 2D, Black, NO.1, Anneal pickling
MOQ: 2MT
Product Description of 201 Stainless Steel Coil
---
The 200 series stainless steel was first developed as a substitute for the 300 series stainless steel. Due to the war, nations strictly controlled nickel as a tactical material, and the nickel provide in the USA was severely insufficient. To be able to solve the problem of supply and the production of steel in the event of a lack of nickel provide, the USA has developed a series of austenitic steels based on manganese nickel.
201 stainless steel, so forth and with high density, a certain acid and alkali resistance, is the creation of various instances, back cover of high-quality substances. Mainly used for pipe, some shallow drawing on solutions. China has 200 types of steel grades: L1 LA, L4, J1, J3, J4, 201, and 202.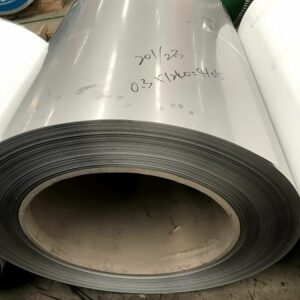 Following the end of World War II, the supply of nickel in the USA gradually enhanced. So the 200 series hasn't been improved, and the production of 300 series stainless steel is no longer restricted by the lack of materials. Returned to India. Starting from the fact that India is rich in sources that are manganese and lacking in nickel resources, the 200 series stainless steel varieties developed in the United States will be brought back to India.
Production Range of 201 Stainless Steel Coil:
---
-201 Cold Rolled Stainless Steel coil, Cold rolled 201 coils, 201 CRC.
· Thickness: 0.2mm – 8.0mm
· Width: 600mm – 2000mm, the narrowed products pls check in strip products
· Max coil weight: 25MT
· Coil ID: 508mm, 610mm
· Finish: 2B
-201 Hot Rolled Stainless Steel coil, Hot Rolled 201 coil, 201 HRC.
· Thickness: 1.2mm – 16mm
· Width: 600mm – 2000mm, the narrower products please check in strip products
· Max coil weight: 40MT
· Coil ID: 508mm, 610mm
· Finish: NO.1
201 Grade description in different standard
| | | | | | |
| --- | --- | --- | --- | --- | --- |
| ISO Name | ASTM | DIN / EN | JIS | GB | Other |
| X12CrMnNiN17–7-5 | S20100 / 201 | 1.4372 | SUS201 | S35350 | J1 L1 LH 201J1 |
Production Process and Feature
---
Simple Comparison between 201 and 304
201 steel can be and are identical Distinguished to the naked eye. Here In the eyes of Customers, 304 stainless steel and Differentiating 201 and between 304.
1. Specifications: Commonly Steel plates that were used are divided into two kinds 304 and 201, the reality is that the makeup of distinct quality was good, but the cost is pricey, 201 worse. 304 contains steel plates that are domestic and imported, and 201 is a steel dish that is national.
2. The composition of 2,201 is 17Cr-4.5Ni-6Mn-N, which is alternate steel to store Ni steel and 301 steel. Magnetically processed for railway vehicles following processing that was chilly.
3. 304 composition is Steel. Atomic energy, for food production equipment, chemical equipment that is Xitong 18Cr-9Ni, which is heat-resistant and the stainless steel And so forth.
4. 201 is a manganese content that the surface is glowing with glowing, higher content rust. 304 comprises chromium that doesn't rust. There are two sorts of places. The most crucial is that the corrosion resistance is various, 201 corrosion resistance is inferior, so the cost will be cheaper. And since nickel is contained by 201, so the purchase price is lower compared to 304, so the corrosion resistance isn't quite as fantastic as 304.
5. The gap between 304 and 201 is the issue of manganese and nickel. Along with 304 can guarantee it will not rust throughout usage, although the cost of 304 is more costly. (Use stainless steel potion for your experimentation )
6. Stainless steel isn't simple to rust since the steel frame can be protected by the creation of chromium oxide on the surface of the steel frame, 201 substances are high manganese steel 304 hardness, nickel, and higher carbon.
7. The composition is different (mainly from the carbon, manganese, nickel, and chromium-containing 201 stainless steel to 304).
Difference between 201(L1, J1 ) and 202(L4, J4) stainless steel plate and coil
202 and 201 steel are common Stainless steel substances then what would be the differences between the two substances? Along with the substance that is various labels brought on by components, what would be the differences in characteristics and software? Now, let us have a closer look.
From the stainless steel business, 201 signifies a substance. 201 steel, describes the term for steel and 201 steel. 201 steel refers to steel that's resistant to rust by mediums like water, steam, and air, while steel refers. The version that is standard is 1Cr17Mn6Ni5N. The elemental manganese (and nitrogen) of this 201 stainless steel plate exerts some or all the nickel to generate a lower nickel material that doesn't reach balance and types ferrite.
Application
---
The application of 200 series stainless steel was successful in India because of the possibility of replacing 304 stainless steel in some specific applications.